PLANET IPX-330
Telephone exchange for VoIP voice and video communication, SIP Proxy for 30 lines, 15 simultaneous calls. 1x LAN port, 1x WAN port, 2x analog FXO port, 1x console port (RJ-45).
IVR voice porter, call routing, answering machine (up to 350 hours), voice mail (up to 350 hours) email notification, DID dialing, call recording, conference calls, video calls, BLF line status, FAX server, Skype for SIP function.
Web/SNMP v2 management. VPN server/client, TCP IPv4/IPv6 support, SIP and IAX2 standards, DC 12 V power supply.
---
The web interface for device management is also available in the Czech language.
---
The Planet IPX-330 is a phone system designed and optimized for use in office and small business environments. The device supports up to 30 user/device enrollment, and is easy to install and manage. The system offers functions such as centralized call management, automatic operator, voice conferencing, mediation of voice access to an external PSTN or VoIP telephone network, call recording or voice mail. It supports telephone Internet operators and allows you to completely remove and replace the link to traditional telephone services.
The control panel is suitable for smaller installations with support for all the functions we are used to in classic control panels. It extends them with integration with email and management via a web browser. The BLF (Busy Lamp Field) function allows you to signal the status of the lines on selected end devices.
The PBX is a VPN server or client for a more secure connection between subscribers, it integrates a FAX server for possible reception and sending of messages exclusively electronically.
Common SIP VoIP telephone apparatuses of any manufacturer can be registered to the PBX. To extend the possibilities of integration into the analog phone network, it can be supplemented with supported voice gateways. It now also supports TLS/SRTP encrypted protocol traffic.
In addition, the user interface for administration has been significantly redesigned, which is graphically very good and offers many extra features.
Pay close attention to the security of the IPX PBX against access from the Internet. It is advisable not to expose it to a public IP address, rather to set it behind a firewall and NAT. In the firewall, allow only traffic to the SIP registration server, disable other operations.
If you do not use foreign calls, let the VoIP provider disable or limit it to the maximum amount called per day, as a protection against misuse of calls by an attacker.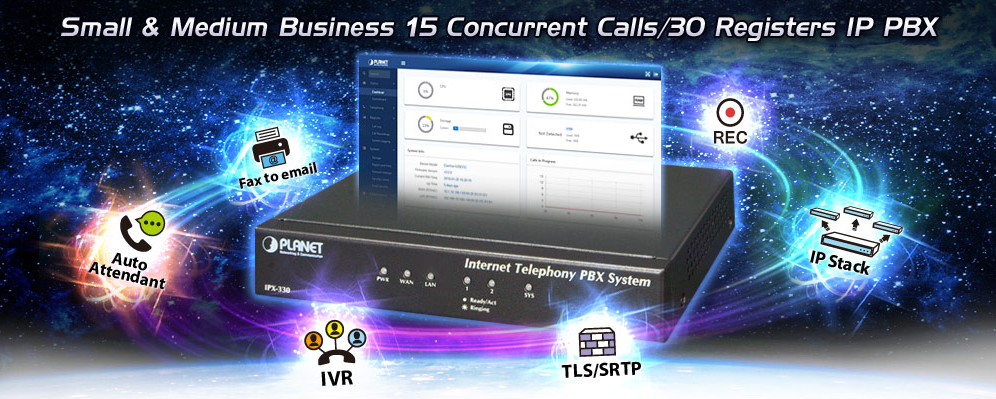 Hardware:
15 VoIP simultaneous calls, 30 registered devices
1x Ethernet 10/100Mbps, 10/100Base-TX, Auto MDI/MDI-X, RJ-45 connector
Dimensions: 295 x 155 x 65 mm
Power supply: externally DC 12 V
Operating temperature: -10 to +45 °C
EMC/EMI: CE, FCC Class B
Telephone exchange functions:
Group call routing
Possibility to hold the call during the call and pick it up and resume it from any other device (Call parking)
IVR, automatic voice porter, interactive voice menu, controlled according to set working hours
Conferences, possibility to convene a telephone conference, system of prompting participants by voice recording
Call recorder, length according to quality: PCM up to 50 hours, GSM up to 350 hours
Voice mail, e-mail sending of recordings to users, saving recordings to disk, the user can listen to the answering machine even through the telephone line while knowing the password; length according to quality: PCM up to 50 hours, GSM up to 350 hours
Play any embedded recording while waiting (e.g. music, commercials, etc.)
Detailed records of calls made, CDR export
Control of control panel settings from the apparatus
Control of line settings by the user (redirection, blocking, alarm...)
DID (Direct Inward Dialing Number) with possible dialing when calling internal numbers
Blacklist
Signalling of bus line field (BLF) lines for operator apparatuses
Virtual FAX server for receiving and sending faxes, function of sending received FAX to email (FAX to email)
Asterisk compatible IP PBX
Ip connection (VoIP) function
Standards: SIP 2.0 (RFC3261), IAX2
SIP codecs: G.722(HD)/ G.711-Ulaw/ G.711-Alaw/ G.726/ G.729/ GSM/ SPEEX
Implementation of video call connections with codecs: H.261, H.263, H.263+, H.264
Support for fax transmission with the T.38 codec
SIP Proxy, NAT support, connection with other SIP proxies (trunk), MD5 authorization
Auto Provision: possibility of automatic configuration of connected VoIP devices
Call routing by prefixes and wildcards, blocked and allowed preferences
Group users into logical groups that define the routing of their calls
IP function:
Device management: WEB or SNMP v2
SIP registration and operation by encrypted TLS/SRTP protocols
Protection against DoS attacks
VPN server/client with protocol support: PPTP, L2TP, OpenVPN
IPv4 and IPv6 support
VLAN integration according to IEEE 802.1Q
DDNS client (Planet, Easy DDNS)
---

---
Example of the new user interface: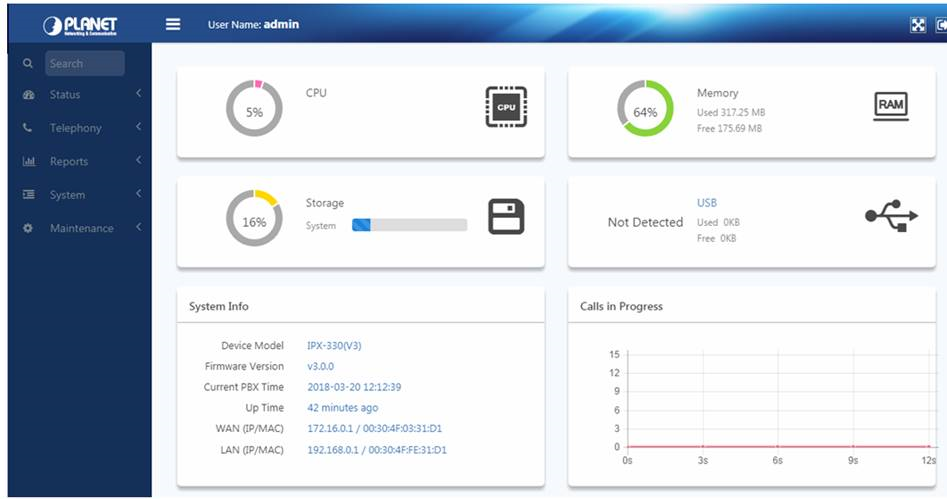 ---
Example of use: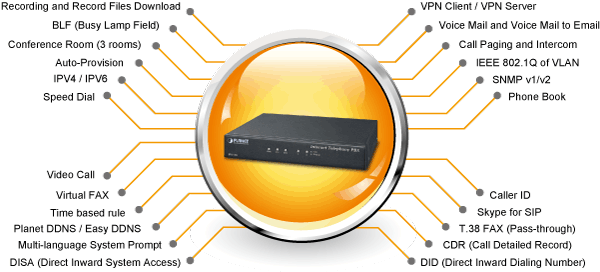 ---
---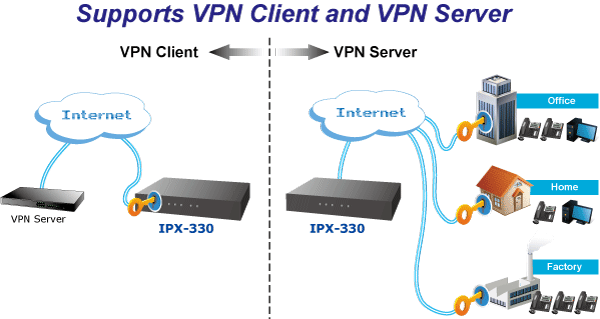 ---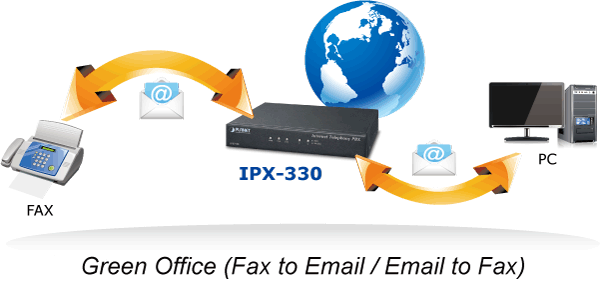 ---

Parameters

Presentation and use

Manual

Other download